Hagymási Winery Eger

József Hagymási enologist – viticulturist engineer
As a citizen of the Town Eger, my life can be said is quite customary if we proceed from the fact that here everything is about grape and wine culture. Therefore, it was nearly inevitable to work in this field. Everything started in primary school. After the recommendation of director Mr. Dargay – whose son is Attila Dargay: Vuk (the cartoon) – I went to study to Technological Grammar School of Viticulture in Sátoraljaújhely. My career started in the wine factory plant in Eger, firstly as a skilled workman than as a foreman. This was the place I got acquainted with all principles of wine making and also won the 1st place of the Competition of National Oenologists with my colleague, Tibor Gal. My life speeded up – marriage, military, children, diploma – and an assignment to be the executive of viniculture at Research Institute for Viticulture and Oenology. Than an unexpected request, evolving the estate and winery connected to GUNDEL restaurant in the capital. Eger -, Mád, what a challenge! Two excellent wine regions, two estates, vineyards, cellars, two different world. And, at least two Continents where wine was exported.
Eger: in the background the family size and owned viniculture had been blooming. There are more and more to do, and we did it with passion. 1999 was the year of changes. The establishing of family farmland was done with full energy. With the help of governmental support - as a result of a successful application – the basis of oenology was established; the formation of a new, modern structure of estate. We tried to carry our years of backwardness; drawing vineyards together, planting new grape varieties, building the complete, modern system from grape processing to bottling.
5 hectares of own vineyards gave the basis all for above mentioned.
Then the first wine was born, under the brand name of us.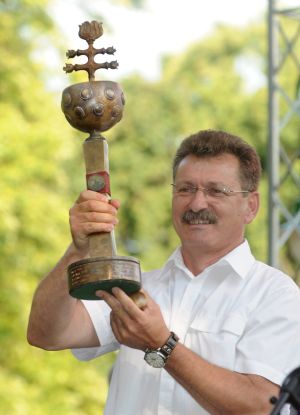 Winemaker of year, Eger
At the beginning we served other wineries, factories with bulk wine then more and more wine was sold through our own distribution channel. Year by year we enlarged the size of our vineyards reaching 27 hectares for now, consists of 3 bigger areas.
Our most important crues are as follows: "Kisrózsás, Öreghegy, Hempergő and Újfogás".
The most important varieties we work with; Welsh Riesling, Yellow Muscat, Cserszegi Fűszeres, Rhein Riesling, Chardonnay, Kadarka, Menoir, Syrah, Pinot Noir, Cabernet Franc, Cabernet Sauvignon and Merlot.
At most of the areas the soil has volcanic origin in the deep layers– rhyolite tuff – covered by brown forest soil. As a result of the terroir, our wines are unique, full bodied, having mineral character and keeping their fruitiness for a long time.
Our wine cellar is situated in Eger, Kőkút Street where from grape processing to bottling, everything is done by ourselves and the help of our colleagues.
Our winery consists of a modern, air-conditioned, built grape processing place and a traditional cellar system carved into tuff with the total capacity of 2400 hl.

Our distribution channels:
In Eger: "HAGYMÁSI BOROZÓ", Szépasszonyvölgy (Nice woman's valley),
cellar nr. 19.
The domestic market: Cora, Metro, Spar – Interspar hyper- and supermarkets.
Wine shops and Restaurants of high standards in Budapest, Debrecen, Szeged, Nyíregyháza and Miskolc.

In the business, the members of my family also take part with pleasure. My wife, Ibolya and my children, Tamás, Hajnalka, Lili and the youngest, Csenge.